Name of Pokemon: Squirtle
Appearence: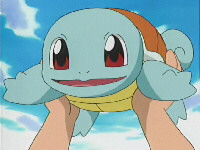 Gender: Boy
Evolutions: Squirtle + Level 16 = Wartortle + Level 36 = Blastoise
Type: Water
Type of Pokeball Caught In: Pokeball
History: While Crimson was in Ceruleon City he met a water type trainer who had an egg. The trainer could not raise the Pokemon that was going to come out of the egg so when he saw Crimson beat Misty he thought Crimson was worthy to have the egg. When the egg hatched it was a baby Squirtle! Squirtle is the youngest member of Crimson's team and is very fond of Crimson. Squirtle is very shy and always like to be held by Crimson.
_________________
-Secondary Admin-