Name of Pokemon: Munchlax
Appearence: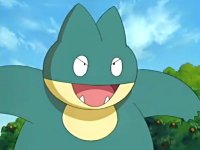 Gender: Male
Evolutions: Munchlax + Frenship = Snorlax
Type: Normal
Type of Pokeball Caught In: Luxury Ball
History: While walking down route one Fred was afraid to make any friends. Then he saw Munchlax and remembered stories from his father, about his Snorlax as a Munchlax. So after building up the courage to begin a new friendship, Fred ask Munchlax if he wants to join them. Then he holds out the luxury ball, and Munchlax gets caught. But what Fred dosn't know is that his Munchlax is his father's Snorlax's kid!